FOWMS
Friends of West Meon School
FOWMS is an organisation made up of parents of the pupils and work tirelessly to support the school through a variety of fundraising activities. The money raised is used for resources to support the children's learning. In addition to fundraising FOWMS organise exciting social events for the children, such as parties, discos and the ever popular ice creams on Sports Day!
FOWMS has their own Facebook page. Why don't you take a look and like their page. You would then be notified of any meetings/events immediately.
Fawley Farm Feeds Horse & Dog Show
Our main fundraising event for the year is the Fawley Farm Feeds Horse & Dog Show in Privett. We were asked if we would like to run a country fete to compliment the very successful family horse & dog show that Andrea & Matt Povey run. They have chosen West Meon School as their charity partner and very kindly donate all of the profits from the Fete and their Shows to our little school. From this alone we have raised over £5,500 in the last 2 years and the money raised this year, will help improve our IT equipment.
The horse show has grown over the years and it has got a great reputation for being a very friendly, family event. There is everything from jumping, showing, dressage, gymkhanas, fancy dress (for horse & rider!) and even a new Western class. If horses are not your thing don't worry - on our side of the field, we have the dog show as well as craft stalls, bouncy castles, face painting, a beer tent, BBQ, ice cream van & traditional country games such as welly wanging & crockery smashing. We are very lucky to have been given the opportunity to run the fete and it is lovely to see the whole school community pulling together and making the day a success. Please keep the 7th July free !
In the meantime, could you help with raffle prizes and /or sponsorship?
Every year, Andrea Povey produces a show guide which outlines the day and details the classes that you can enter both for the dog show and the horse show. Each class is sponsored, the company name is listed in the show guide and is also announced on the day. ALL of the sponsorship money is donated to the school so the more we can secure, the better. For only £25 per class - it's a bit of local advertising and all for a good cause!!! The schedules should be printed by Easter so if we could we have any sponsorship offers by the end of March that would be great!
We are also looking for donations for our 'washing line' raffle. These could either be promises or gifts. Last year we had some great prizes donated; a meal for 2 at the Thomas Lord, Pilates classes, free Rugby Tots sessions & entrance tickets to the South Downs Show to name a few. Any ideas or suggestions welcomed.
Please get in touch with H (07836 684974) Charlotte (07876 506816), or with the school office if you can help with either sponsorship or raffle prizes.
Many thanks,
The Friends of West Meon Team
Halloween Disco
Thank you FOWMS for putting on a great show at the Halloween Disco. The costumes were awesome and there were prizes for the best costumes.
Take a look at some great slides.
Father Christmas arrives
Father Christmas came to visit the children. Thank you FOWMS for organising this very special visit.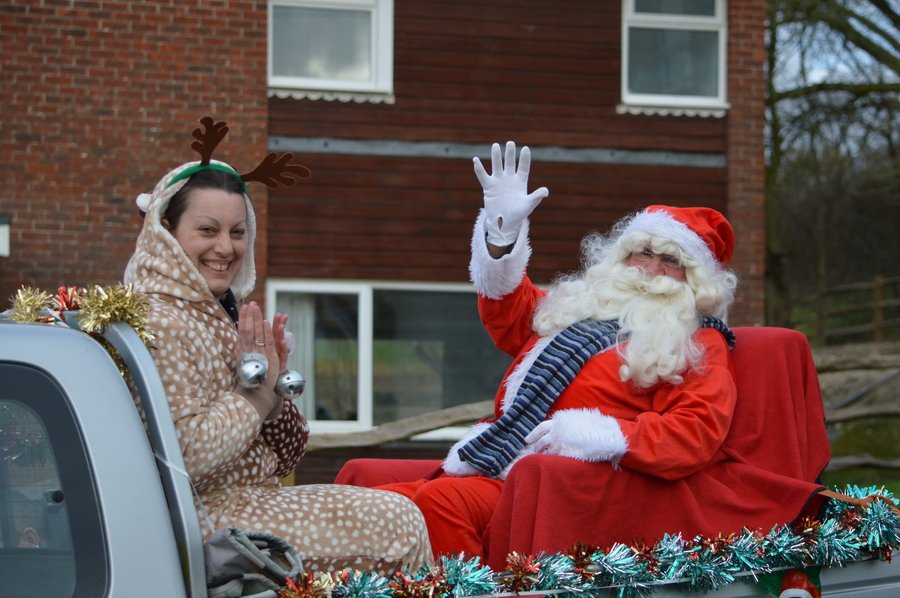 A Special visitor visits our School!
Minutes of latest meeting
Give us your old coins and notes!
Here at West Meon CofE Primary School we're busy fundraising by collecting old British or foreign coins and notes (even if they are obsolete!). Initially you will see lots of posters around the school as well as the collection bucket in the office. Once all the currency has been collected we send it to www.cash4coins.co.uk who exchange it into money we can use. The bucket will be here all year so keep all your coins coming!
Cinema Club
On 25th January FOWMS held their first Cinema Club of the year. This is always popular with the children with two choices of films to watch plus the sweets and drinks!